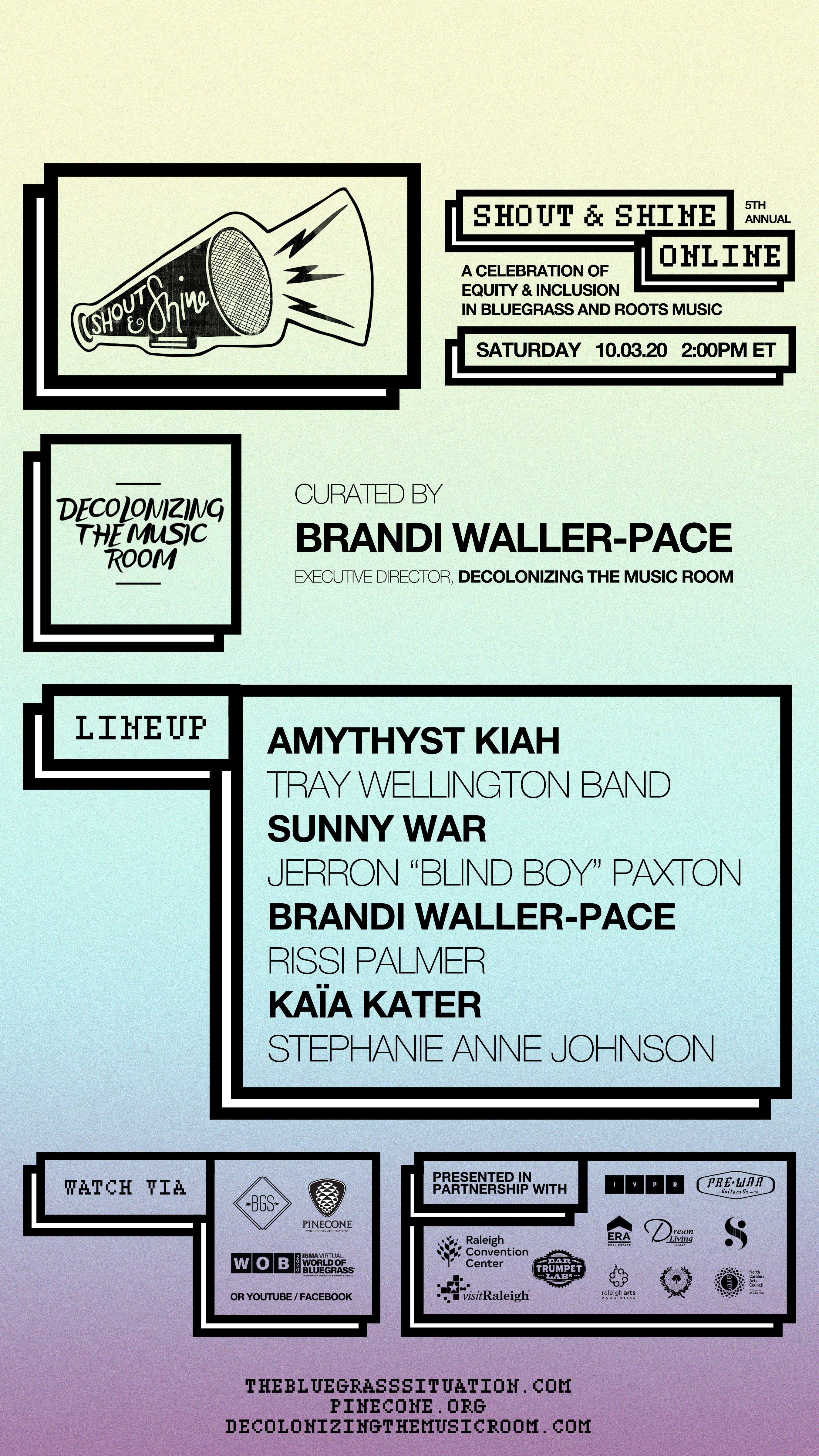 For five years now BGS and our partners at PineCone have used our voices, resources, and positivity to lift up and celebrate diversity in bluegrass and roots music through the Shout & Shine showcase. This year, the event's 5th annual iteration will follow a format more suitable for a worldwide pandemic — with an all-online showcase as part of IBMA's Virtual World of Bluegrass! 
Shout & Shine Online will feature artists from across the genre map of roots music: Rissi Palmer, host of Apple Music Country's brand new radio show, 'Color Me Country'; IBMA Momentum Award winning banjoist Tray Wellington; punk-influenced fingerstyle guitarist and songwriter Sunny War; down-home blues and old-time musician Jerron "Blind Boy" Paxton; The Voice alumnus and guitar picker Stephanie Anne Johnson; and returning favorites Kaia Kater and Amythyst Kiah, who make their first appearance at Shout & Shine since playing on its debut lineup in 2016. 
Shout & Shine Online's roster is curated by performing musician and Decolonizing the Music Room founder and Executive Director, Brandi Waller-Pace. Shout & Shine Online will take place at 2 pm ET Saturday, October 3. Viewers will be able to tune in on BGS, or right here on Facebook, or YouTube, via PineCone's channels, and via IBMA's conference platform, Swapcard. 
thebluegrasssituation.com 
pinecone.org 
decolonizingthemusicroom.com