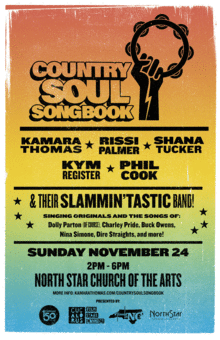 Country Soul Songbook is a high-energy community celebration that spotlights alternative voices in country-soul-Americana music-- a quarterly, seasonal, Durham-centric concert series (and Potluck!) featuring local musicians, AND an online episodic documentary series highlighting artists, Durham culture, and the places (venues, restaurants, etc.) where our community gathers. 
The larger intent of the project is to explore, discuss, and demonstrate how the country, soul, and Americana genres, and the Durham community itself, are rooted in the same history, and the same multi-race/multi-identity American soup. We want to build community bridges, and celebrate our unity-in-diversity through the irresistible power of music, food, and the good times that gather people together. 
Our first concert will take place at North Star Church of the Arts on Sunday, November 24th, 2019. Featured artists include Kamara Thomas, Rissi Palmer, Phil Cook, Kym Register, and Shana Tucker. 
Additional concerts will take place seasonally starting in March 2020. Each concert will feature a combination of artists' original tunes, and curated songs from the existing country-soul-Americana canon. 
The pilot episode of the web series will complete filming in 2019 and begin airing online in Spring 2020, with regular episodes to follow. Purchase tickets HERE.