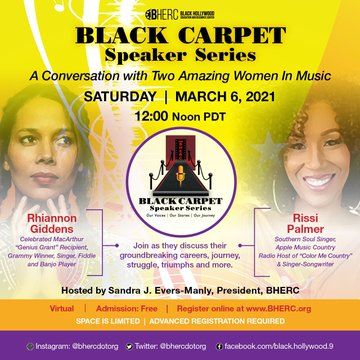 A Conversation with Two Amazing Women In Music on Saturday, March 6 at 12pm pst/3pm est.  
Rhiannon Giddens 
Celebrated MacArthur "Genius Grant" Recipient, Grammy Winner, Singer, Fiddle and Banjo Player 
And 
Rissi Palmer 
Southern Soul Singer, Apple Country Music Radio Host of "Color Me Country" & Singer-Songwriter 
Join as they discuss their groundbreaking careers, journey, struggle. triumphs and more. 
Registration is required for this event, click HERE to save your spot.